Da ormai 50 anni Moritzino è il locale più trendy della Alta Badia. Conosciuto per la sua posizione unica, a 2100 metri di altitudine, e per i suoi party è una delle location più esclusive dell'Alto Adige. Qui divertimento e gastronomia si fondono in un mix che vanta "innumerevoli tentativi d'imitazione". Ma nessuno potrà mai imitare lo spirito del Moritzino ed è questo che rende il locale così speciale e affascinante. Tenete d'occhio il nostro calendario per scoprire i prossimi eventi e non scordate di venirci a trovare il mercoledì o il sabato sera per la classica Moritzino Night, il party più caldo di tutto l'arco alpino.
Altissimo – The Dolomites' Most Exclusive Brunch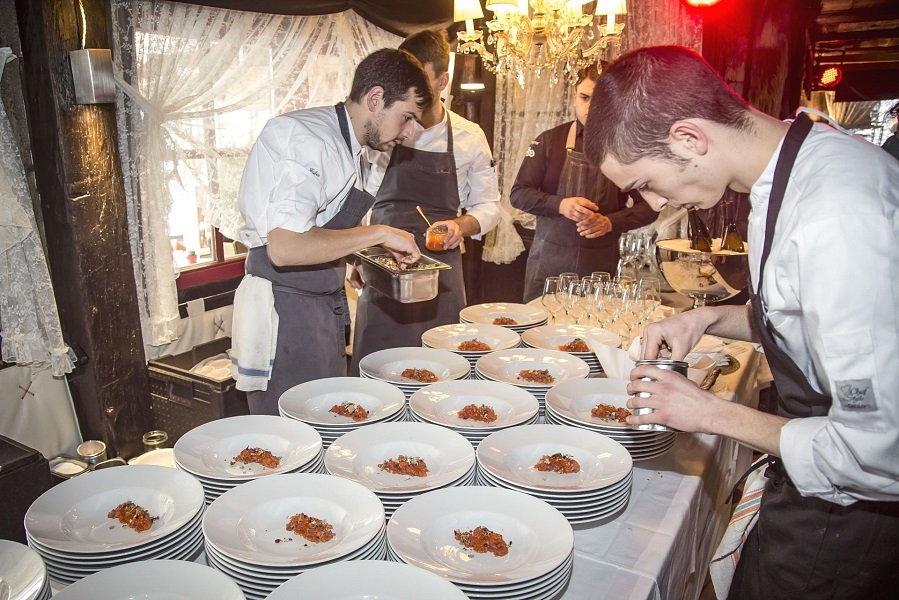 On Monday 17th December 2018 Alta Badia will host "Altissimo", the most exclusive lifestyle event in the Dolomites and the jewel in the crown of the gourmet initiative "A taste for skiing 2018".
For the occasion, the three Michelin-starred chefs of Alta Badia – headed by Norbert Niederkofler who is one of Italy's nine three-star chefs, will showcase the gastronomic excellence of our valley. Also involved in the project is Marco Spinelli, chef at Club Moritzino Piz La Ila, the venue right at the start of the Ski World Cup slope Gran Risa where the event is to take place.
Exquisite moments of pleasure
The event, starting at 11.00 am is divided into several exquisite moments of pleasure. Our star chefs will pamper you with some of their most refined dishes, while renowned producers, from different European regions, will be exhibiting their delicacies nearby.
Enjoy the stylish lounge ambience of the Club Moritzino Piz La Ila mountain hut, while listening to good music and savouring delicious food and fine wines.
If you stay at the hut until late in the afternoon, you can descend into the valley on the snowmobile.
Ski fans also have the opportunity to meet former ski champions, chat with them and een to ski with them.
The Michelin-starred chefs who initiated the project
* Norbert Niederkofler (Restaurant St. Hubertus c/o Hotel Rosa Alpina, 3 Michelin stars) – one of the nine Italian Michelin-starred chefs with 3 stars
* Matteo Metullio (Restaurant La Siriola c/o Hotel Ciasa Salares, 2 Michelin stars)
* Nicola Laera (Restaurant La Stüa de Michil c/o Hotel La Perla, 1 Michelin star)
Participation fee: on request
Places are limited. For information and reservations please contact one of the Alta Badia tourist offices.
Thanks to:
Illy Caffè, Domori, Dammann, Cantine Ferrari, Spazio Fumoir, Bonaventura Maschio, Calvisius, Simone Tartufi, Cuore Iberico, Vranken Pommery, Patatas Nana, Prosciuttificio Zanini, Venica, Cantina Tramin Kellerei, Champagne Pommery, Marsicani, Cà Negra, Cantina Muri-Gries, Cantina San Michele Appiano, Cantina Colterenzio, Cantina Terlano, Cantina San Paolo, Cantina Girlan, Cantina Franz Haas, Domaine Billard-Gonnet, Domaine Pierre Labet, Tsarskaya, Fine Wines, Vinum, Heres.